Creative Media students from the College of West Anglia have joined a local production company as part of their work experience to film and stream live football games.
Reg Clarke, who owns Reg Clarke Media, a production company specialising in all aspects of video production, contacted CWA with an opportunity to work with him to help film and stream the football games taking place at King's Lynn Town Football Club.
The second-year Creative Media students have been helping Reg over the past month, gaining invaluable experience, and working alongside him, as cameramen, operators and runners at home games on Tuesday and Saturdays, including those against Wealdstone and Boreham Wood.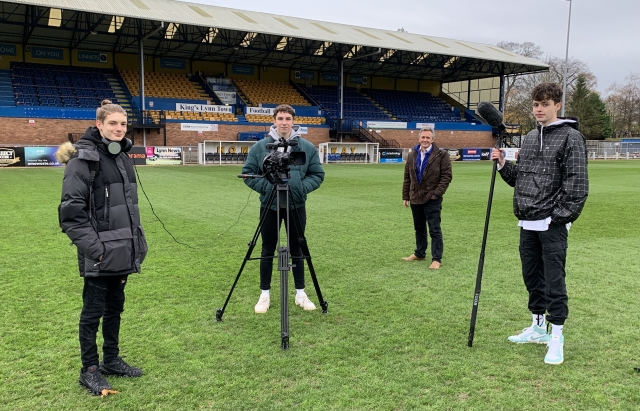 From L to R: CWA students Max March, Tom Narramore and Oscar Langham pictured with Reg Clark (centre right).
Reg said:
"The students have displayed a fantastic work ethic and are extremely talented. I really couldn't have done it without them. There is a basic requirement to have camera operators to follow the game and they are operating broadcast quality cameras, with the main camera feed being sent to BT Sport, to be played on BT Sport on the highlights."
CWA Creative Media student, Oscar Langham, said:
"I have really enjoyed working alongside Reg and I have learnt a lot already. It's something that I haven't done before and I'm glad to be part of this project."
Creative Arts Work Experience Coordinator, Hayley Rudd, said:
"It is a great opportunity for our students to be involved with. Not only are they learning new skills from Reg, who has years of experience, but it is a great training ground for any future career they wish to enter into within the media industry."
Reg moved to Norfolk five years ago after working as a TV Director, Cameraman and editor for over forty years. He has worked on a wide variety of projects, from ads for Barclays and Marks & Spencer to natural history documentaries and TV & video production. In 2008 Reg was nominated for a bafta for his work on documentary China's Stolen Children as an editor and has worked on four other bafta-nominated documentaries throughout his career.
Reg has ties to the local area after working on celebrated Norfolk angler John Wilson's long running series Go Fishing for over ten years. He continues to work within the local community and his clients include The Den Fight Centre and Rogue Production Services, both located in West Norfolk.
Other CWA students who have worked alongside Reg to film the games, include Tom Narramore, Oscar Langham, Max March, Chad Fox and Thisura Hewage.
If you have any creative arts work experience opportunities or an upcoming project you need help with, please contact This email address is being protected from spambots. You need JavaScript enabled to view it..
Reg Clarke Media deal with all aspects of corporate video production, including editing, filming and the transfer of video files. If you're interested in getting in touch with Reg, you can do so via email at This email address is being protected from spambots. You need JavaScript enabled to view it. or call on 07836 680402.