Teaching staff at the College of West Anglia (CWA) have been producing vital personal protective equipment (PPE) to keep those on the frontline safe during the crisis.
The idea was the initiative of Guy Bridge, Work Placement and Careers Co-ordinator, at CWA's Wisbech campus.
He said:
"The drive to contribute in some way, came from a conversation I was having with a friend who is a teacher, who works at a school where they had recently set-up PPE production.
We really wanted to support the local community and NHS staff in any way we could, and we decided, we could use our state-of-the-art equipment to help protect those who are doing such a brilliant job of protecting the general public."
With the help of Simon Marriot and Steve Grief, engineering lecturers at CWA, the team have dedicated their Easter holidays to working tirelessly to produce vital PPE equipment, including face shields, door openers and clips.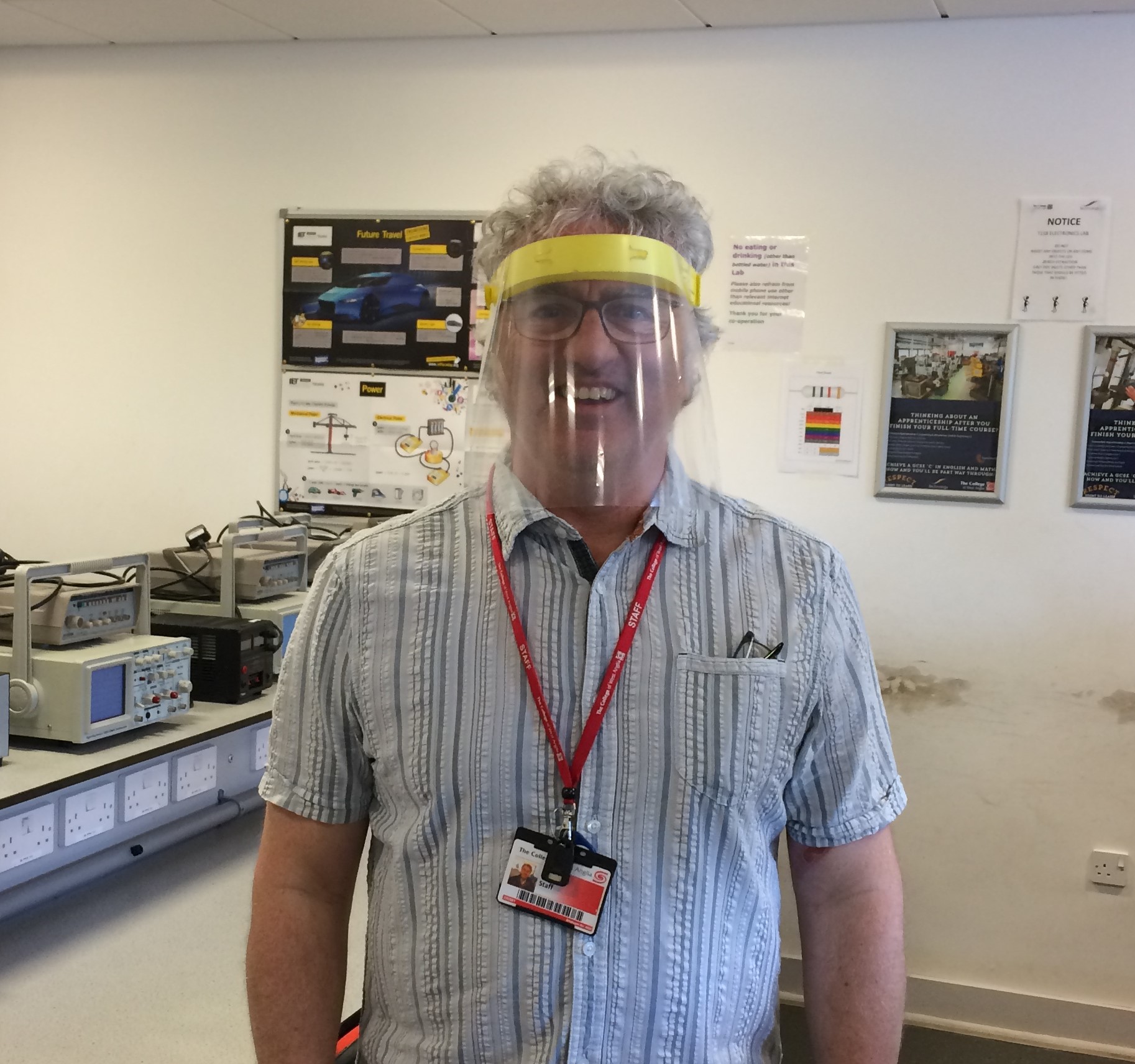 Guy Bridge testing one of the early prototypes
The team initially used a design template available online to create face shields using the state-of-the-art laser cutters and 3D printers from the campus and acetate to create a prototype.
They also produced mask clips to protect the users' ears from the soreness caused by the mask bands and ensure their comfort and safety, as well as door openers and switch operators, which the user hooks over door hangles or light switches in order to avoid touch contact, thus reducing the possibility of the virus to spread even further.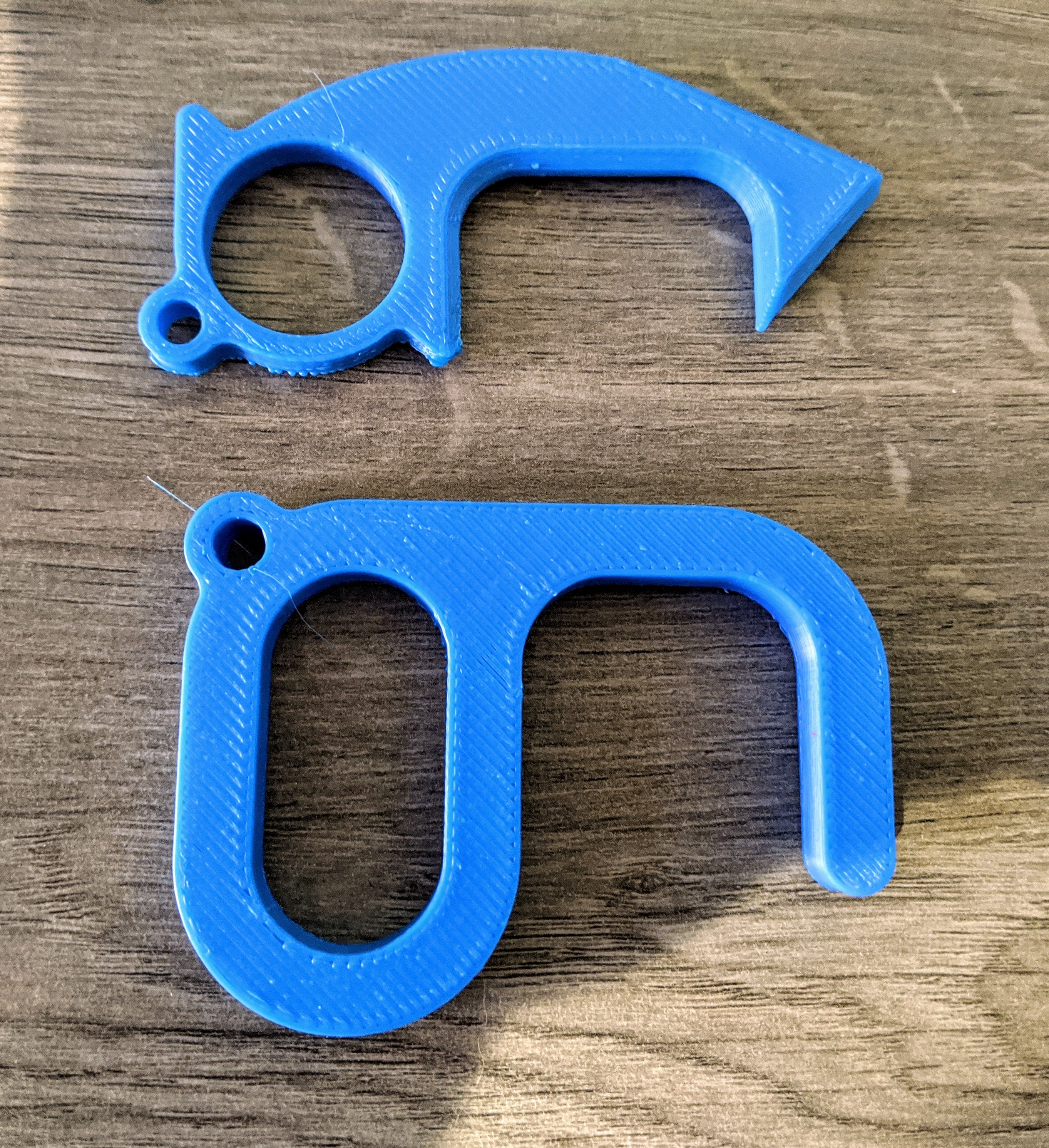 Since they began to look at the prototype at the start of April, they have gone from design stage and testing to optimise strength, stability, usability and comfort to producing over 400 face shield, 250 mask clips, 150 door openers, for care homes, NHS hospitals, doctors' surgeries and other organisations who employ key workers in frontline healthcare positions.
Hospital Donations
Simon Marriott has two of the college's 3D printers at his home and his son and daughter, Ryan and Summer, are helping with production of mask clips and door openers by removing and re-sending prints. His son, Ryan Marriott, is currently studying on the Anglian Water Alliance Engineering course at CWA.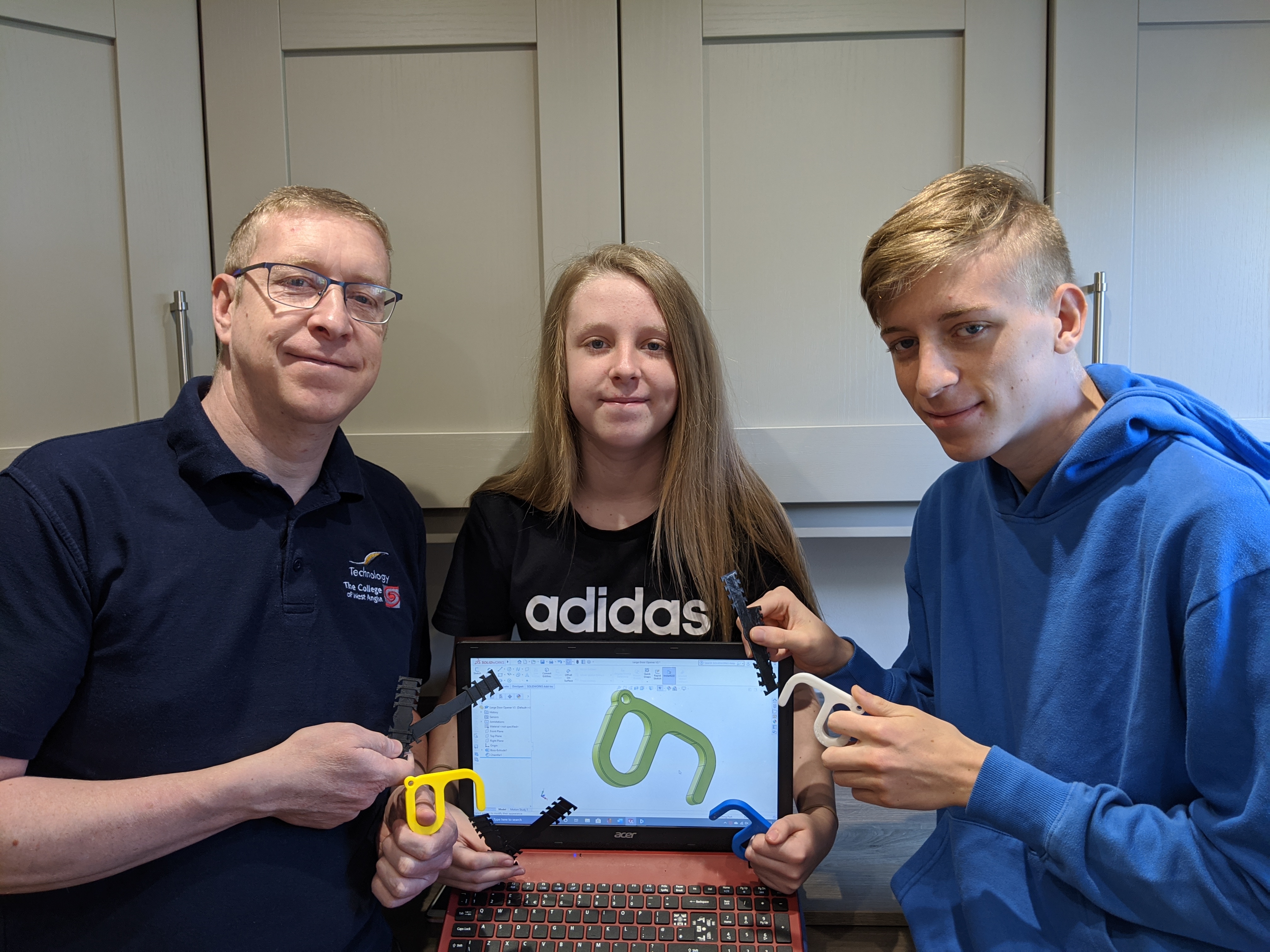 Simon Marriott with his children, Summer and Ryan
He added:
"I got in contact with a lady who works at Doddington Hospital who works in the physiotherapy department who was asking for support with PPE.
So far, we have produced and delivered over 120 mask clips and 60 door openers to the hospital, with plans to produce many more in the coming weeks."
Simon has been inspired by his sister, who currently works as a nurse on the children's ward (Amazon Ward) at Peterborough City Hospital.
He said:
"I showed my sister the designs and she was very excited, as her ears have been hurting after 13-hour shifts wearing a mask. We have sent 20 mask clips and 10 door openers to the hospital, which she said have worked extremely well."
Team member, Tony Williams, who is the Programme Manager of Electrical and Engineering at the college, was inspired by his daughter, who is currently working as a radiographer at Durham Hospital and has been the recipient of a number of door openers.
Tony said:
"After discussing the PPE shortages with my daughter, she shared what we were doing with her colleagues, who thought they'd be great to use. They said: "it's a great thing that we are doing and thank you" to all involved."
The teams are in contact with the Queen Elizabeth Hospital, who are currently testing out the mask clips, face shields and door openers with the hope that they will be able to use them to protect their staff and patients.
Care Home Donations
Glennfield Care Home, Edina Court Care Home and Orchard House Care Home, all based in Wisbech, and another branch in central Cambridge, have all been recipients of the CWA-produced PPE Equipment. So far, the team have produced and delivered over 100 face shields, mask clips and openers to both of the care homes, with plans to deliver more in the coming weeks.
Jude Reeve, General Manager at Glennfield Care Home, said:
"We would like to thank the College of West Anglia for the kind donation of PPE including face shields, mask clips and door opening gadgets for the care home. This will help to keep our staff protected and reduce the risk of pain and spreading the virus.
The response that the college have made to the COVID-19 crisis has been amazing, and in my 40+ plus years of working in the health and care sector, I have never felt so humbled by the kindness and support extended to us."
Alan Seeley delivering PPE to Glennfield Care Home
Maxine Bain, Care Home Manager, at Orchard House, said:
"I can't believe how wonderful this contribution is to the home. We have had to purchase equipment from the building industry as we have been unable to source from our usual suppliers. Thank you so much for thinking of us here to protect our residents and staff at this time."
Howdale Surgery in Downham Market have received over 25 face shields, as well as mask clips and openers. The PPE is being used by local NHS doctors and nurses to protect themselves and their patients during essential home visits.
Dr Shona Lidgey, a GP at the practice, said:
"Thank you for the visors! They work really well, and the mask holders are excellent, thanks."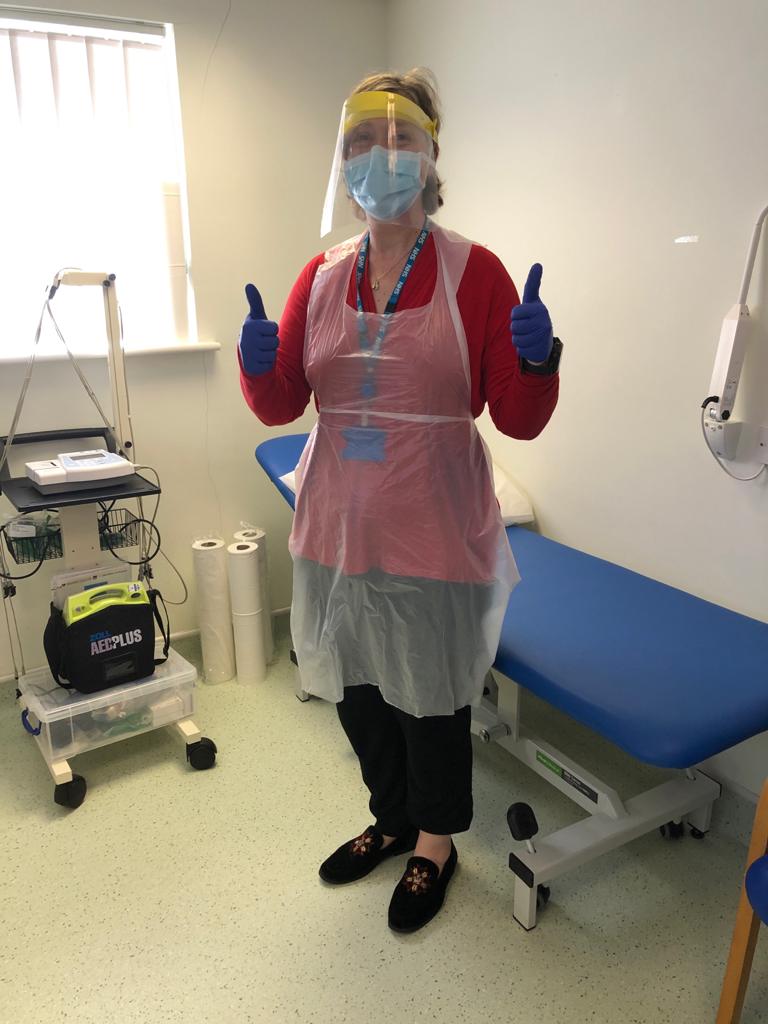 Dr Shona Lidgey at Marham Surgery
An initial sample have also been sent to High Haven Care Home, also based in Downham Market.
CWA have donated PPE to for the West Norfolk CFR (Community First Responder) Response group, where staff member Dave Myring volunteers. Members of the organisation are trained by the East of England Ambulance Service Trust (EEAST) to attend 999 calls on their behalf.
Dave said:
"CWA has been kind enough to donate some PPE to the group, including nitrile gloves, as we have experience shortages of these essential pieces of equipment to enable us to carry on responding to emergencies within the local community. I hasten to add that the search for more PPE continues and will be gratefully received!"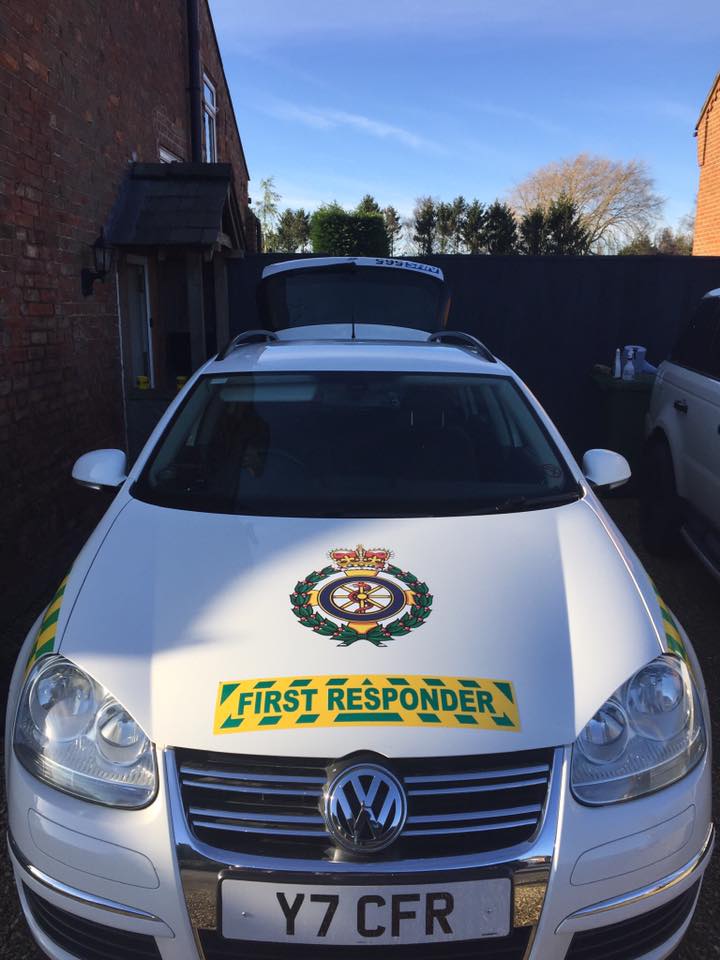 CWA Principal, David Pomfret, said:
"I am delighted with the outstanding effort and initiative with which our staff have rallied around the local community, giving up their own time and using their specialist skills and our state-of-the-art equipment to provide key workers in a variety of healthcare roles with the vital PPE they need to help to protect themselves and others during this unprecedented time."
The CWA staff team involved in the production of PPE are; Guy Bridge, Simon Marriott, Tony Williams, Steve Grief, Chris Rabicano, Alan Seeley, Tony Edgley and Steve Lowery.
We are looking to source materials from local businesses or the general public to increase production of vital PPE. The team are specifically looking for:
Polypropylene sheets which are no smaller than 450mm x 800mm in any colour available and 0.5mm thick
Acetate A4 sheets, the same as are used on overhead projector screens
If you are able to donate materials or know someone who may be able to help, please contact This email address is being protected from spambots. You need JavaScript enabled to view it.. If you live locally in KL, Wisbech or the surrounding areas, we will be able to arrange collection, in-line with Government guidelines, alternatively we are accepting donations by post, too.
If you would like to donate a small contribution towards buying essential material to produce vital PPE, then you can donate at gofundme.com/f/materials-for-ppe-for-the-healthcare-sector