Jordan studied A-levels at the college before undertaking a degree in BA (Hons) English Literature and History at the University Centre West Anglia. She received the accolade of Student of the Year in her final year of study. She has since gone on to undertake teacher training and now works as an English teacher at a local secondary school. She shares with us how life has changed for her during lockdown.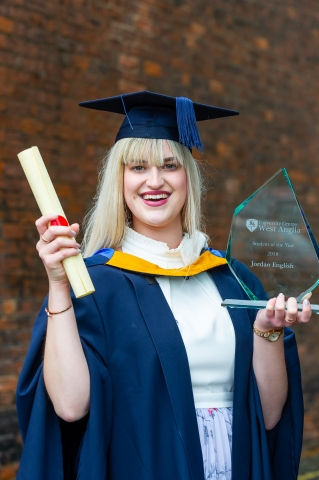 "I still have a duty to provide lessons and keep educating but it is done in a very different way. We still have the school open to children of keyworkers and vulnerable children and we are operating on a rota basis. I will go in to teach some lessons to those children and then I have to ensure there are lessons and resources available on our Academy VLE (virtual learning environment). This means all my students can access the work they have to complete. If they cannot access the VLE the we have to ensure there are paper copies available that can be sent out.
I stick to the school timetable to give myself a routine. I make sure that I am on my emails between 8am-8.30am and I have to send an email to my head of department in the morning as like a check in. I then check to see if there are any emails from staff or students that I need to reply to. We also get a list of jobs to complete by our head of department and then I have my own list of jobs to complete. Currently, we are doing a huge amount of work on our curriculum so that has kept me very busy. I am also starting to think ahead to when we open and what I will be teaching so I can start lesson planning and gathering resources.
When I have been in teaching the children of keyworkers and vulnerable children, the students, alongside us, wanted to show our thanks and appreciation to the NHS and keyworkers so we created a huge board saying 'thank you' and filled it with loads of messages to hang outside the front of our academy.
My mum is a nurse at a local hospital, so this is a tough time for her, mentally and physically. They had a delivery of Easter Eggs but due to sickness some of her staff couldn't receive them, so I went with her to deliver them as quite a few of her staff have children so they are all having to stay in, hopefully that made them smile. My nan finds the fact that she cannot see us and cannot go out difficult, so we, as a family, decided to get her and my grandad signed up to Zoom. We do a family quiz every Sunday which has really helped her stay more positive.
I feel the current crisis has brought out a community spirit. Every Thursday night people down my street clap for the NHS, which is lovely to see."