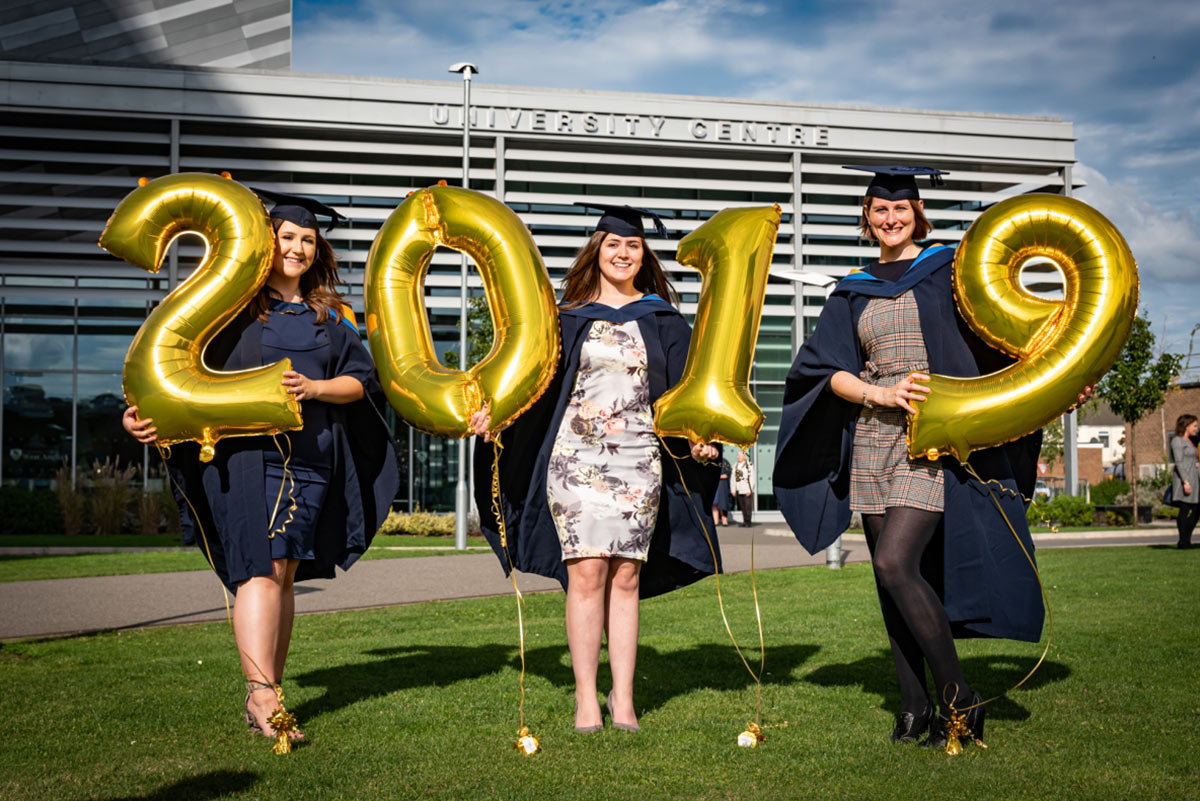 Graduates came together with families, friends and staff at Alive Leisure Corn Exchange on Saturday 5th October 2019 for their graduation ceremony.
Speakers at the ceremony included Principal David Pomfret, Mayor Geoff Hipperson and keynote speaker is Professor Roderick Watkins, Vice Chancellor (Research and Innovation) Anglia Ruskin University, while the student vote of thanks speech was delivered by Nicola Wardle.
Principal David Pomfret said:
This summer our HE students demonstrated their confidence in our HE provision with UCWA achieving an overall satisfaction score of 100% in the National Student Survey on both the BA Hons Psychosocial Studies and BA Hons Early Childhood Studies programmes. The 2019 graduands also achieved great success with over 75% of all completing students achieving 'Good' degree outcomes (first class or upper second classifications). Our HE students have sacrificed much to achieve success, but with the support of their family, friends and ongoing support from staff they have overcome many obstacles. Our graduates should be extremely proud of themselves and what they have achieved.
The overall Student of the Year was announced as Rachel Mason, FdSc Veterinary Nursing and Applied Animal Behaviour for her outstanding achievements during her time at the university centre. Rachel is currently working as a veterinary nurse at Village Vet.
Rachel Mason's tutors said:
Rachel has shown true resilience throughout the duration of her course. Rachel joined us as a mature student following a very successful career as a health and safety officer. From the outset Rachel has been wholeheartedly committed to achieving her career change and her dream of becoming a veterinary nurse.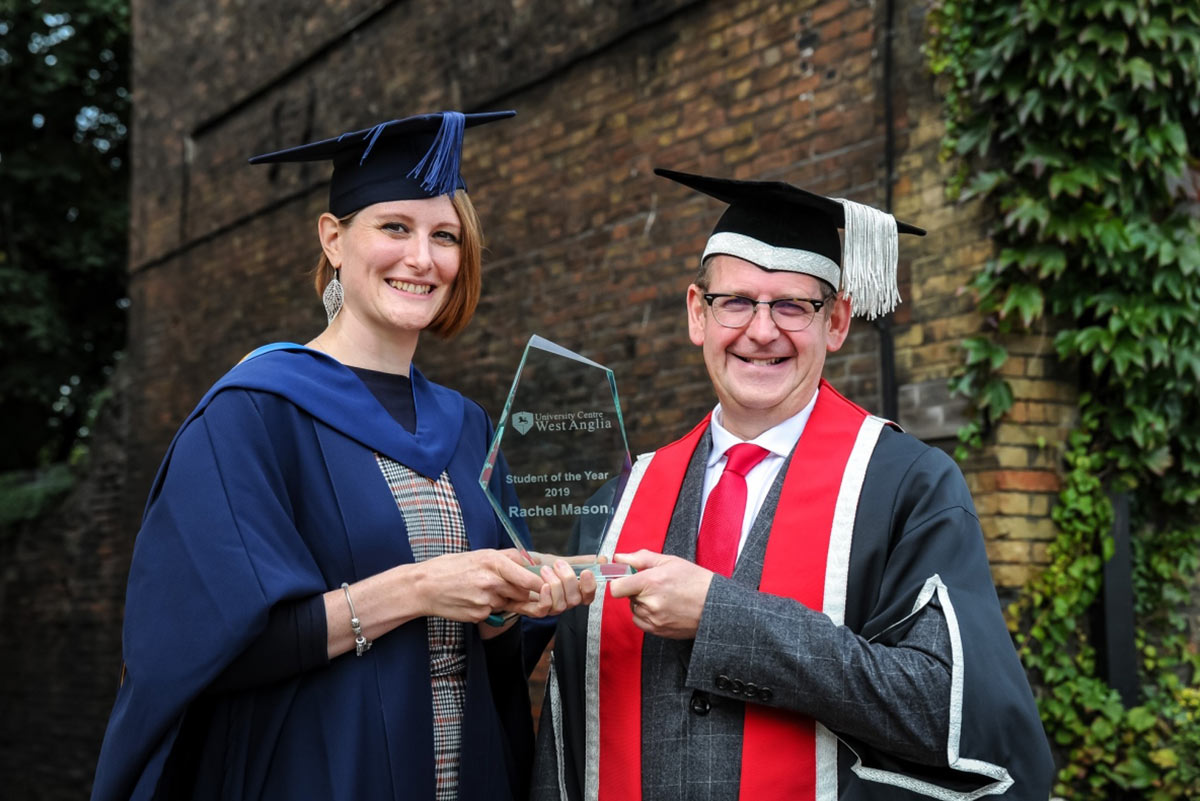 List of Graduates:
FACULTY OF BUSINESS, HUMANITIES, SCIENCE AND COMPUTING
BA (Hons) History and English Literature
BA (Hons) Psychosocial Studies
Sharon Bingham
Tamasin Blackford
Carrie Brook
Sophie Chapman
Telma Delgado
Catherine Fox
Daniel Goodson
Steven Hayward
Karen Hunt
Jennifer Johnson
Denise Lusher
Belinda Maginnis
Letitia Nwobodo
Amanda Woodcraft
BSc (Hons) Applied Computer Science
Lewis Barnes
Ryan Cooper
Roland Cseh
Daniel Garnham
Julia Harkins
Ryan Langley
Shaun Reynolds
Seth Tilley
Aidan Wiseman
BSc (Hons) Business Management
Ela Bulatovaite
Aaron Crich
Horeja Dorrey-Rix
FACULTY OF SPORT, PUBLIC AND CARING SERVICES
FdA Early Years Playwork and Education
Emily Claxton
Amy Coates
Roberta De Luca
Matthew Foulkes
Charlotte Fretwell
Abigail Jenkins
Jasmin Marsh
Grzegorz Nieweglowski
Courtney Noakes
Rebecca Pratt
Thomas Richardson
Chelsea Rudd
Joanne Sewell
Lisa Warnes
Dana Webster
BA (Hons) Early Childhood Studies
Catherine Boulding
Saralee Bourne
Kelsey Brenchley
Catherine Burr
Jessica Craske
Annabelle Crickitt
Amber Dennis
Melanie Filmer
Daisy Fitzjohn
Moira Hardy
Chelsea Knight
Sam Major
David Meek
Chloe Miles
Megan Nichols
Alisha Spiteri-Nobbs
Becky Thompson
Nicola Wardle
Kinita Webb-O'Dea
Josephine West
Emma Woods
Certificate in Education and Training
Rosaly Bleeker
Jema Bywater
Heloise Evans
Lisa Fuller
Damon Hudson
Holly McGuirk
Sean McQuaid
Kirsty Mears
Paul Parnell
Karen Pentney
Melissa Roberts
Gary Silkstone
FdSc Animal Care and Applied Behaviour Studies
FdSc Veterinary Nursing and Applied Animal Behaviour
Rosalia Chieppa
Hannah Colson
Aleksandra Czyz
Pia Dodd
Shannon Flynn
Aleksandra Glabicka
Bethany King
Rachel Mason
Rosemary Palmer
Connie Payne
BSc (Hons) Veterinary Nursing and Applied Animal Behaviour
Michelle Baker
Lydia Barlow
Zoe Bowers
Rebecca Charlton
Elizabeth Duff
Tilly Gladstone
Tania Kirimli
Charlotte Lee
Ffion Norris
Reidun Oxseth
Amy Pedder
Beatrice Vincent
Jessica Watson
Robyn Wheeler
HNC in Construction
Nyall Ayres
Ben Hagerty
Matthew Milne
Bradley Russell
HNC in Electronic & Electrical Engineering
Christopher Farrar
Matthew Hindle
James Matthews
HNC in Mechanical Engineering
Conor Easey
Luke Mitchell
Dominic Parker
Curtis Wyatt
Darren Young