University Centre West Anglia (UcWA), in partnership with Anglia Ruskin University (ARU), has been named as the UK's leading university for Education courses in the 2021 Guardian league table.
Over 200 students have graduated from UcWA with education-related degrees since it opened its doors in 2003. The BA Early Childhood Studies degree programme has scored 100% student satisfaction on the Guardian National Student Survey for the last four years running, while 85% of those who graduated this year have achieved a 2:1 or above.
UcWA delivers degrees in partnership with ARU and has campuses in King's Lynn and Cambridge and deliver a range of degrees and foundation degrees at its King's Lynn campus, with students travelling from Norfolk, Cambridgeshire, Lincolnshire and further afield to study at the university centre.
UcWA Course Director for the BA (Hons) Early Childhood Studies and Foundation Degree in Early Years and Education, Kathryn LeServe, said:
"A lot of our students are experienced teaching assistants who are supported by local primary schools in the area to move on to further teacher training to become fully-qualified teachers.
The degree programme offers a fantastic opportunity for those already working with children to further their careers into teaching and for school leavers who want to train as primary teachers.
We have a 100% employment rate on the BA programme by the third year, with many moving onto primary or early years teacher training or full-time job roles."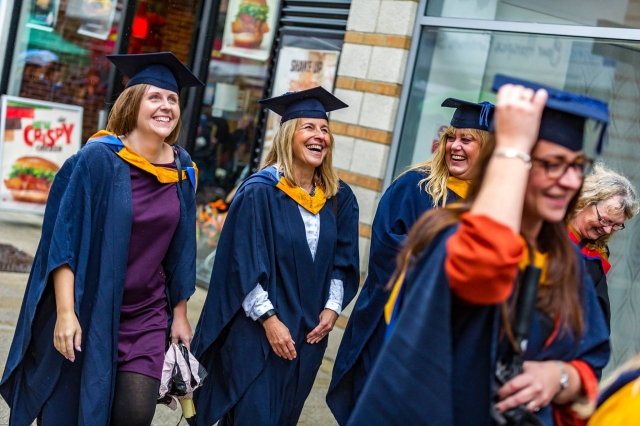 Course director Kathryn LeServe pictured with BA (Hons) Early Childhood Studies Graduates in 2018.
UcWA alumna, Nicola Wardle returned to studying after working as teaching assistant, first completing a foundation degree and progressing onto a BA (Hons) Degree in Early Childhood Studies, graduating with a first-class honours degree in 2019. She now works as a primary school teacher in the local area.
"UcWA was my first choice as it had been highly recommended by several colleagues. I enrolled as a mature student, with a family, so accessibility and reputation were important factors when deciding where to study. I can honestly say that the quality of teaching was exceptional. The tutors are extremely skilled, knowledgeable and approachable.
My degree has enabled me to fulfil my dreams and aspirations of becoming a teacher. I now have a full-time career, working as a KS2 teacher in a local primary school."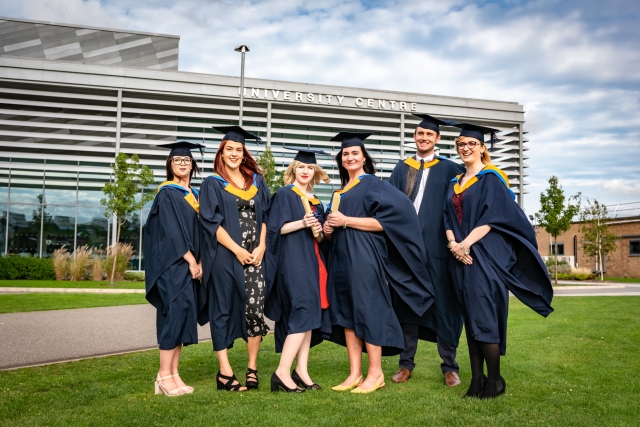 Nicola Wardle pictured centre right.
Vice Principal of Curriculum and Learning, Ruth Harrison, said:
"We are extremely proud to be ranked alongside ARU at the top of the 2021 Guardian University Guide League Table. The ranking reflects the dedication and commitment of our lecturing team and is testament to the impact of the degree programme in the wider local community."
Assistant Principal of Quality and Outcomes, Andrew Gedge, said:
"We have a strong partnership with ARU, delivering a wide range of degrees over the past seventeen years, to meet our mission statement 'changing lives through learning."

Professor Roderick Watkins, Vice Chancellor of ARU and member of the CWA Governing Board, said:
"We can be justifiably proud of our position in the 2021 Guardian University Guide league table, not least because it highlights the clear difference we are making to the lives of our students.

"ARU prides itself on being an inclusive university, focusing on widening participation and helping everyone achieve their potential. Our 'Value added' score shows that we are achieving tangible success in this area."
The full Guardian University Guide league table can be accessed here https://www.theguardian.com/education/ng-interactive/2020/sep/05/the-best-uk-universities-2021-league-table
If you're interested in applying to UcWA, we're still taking applications for this year via Clearing. You can call our Clearing hotline on 01553 815650 or email us at This email address is being protected from spambots. You need JavaScript enabled to view it. for more information.