A great interview feels like a conversation, not an interrogation. Here's how to run things smoothly and get all the information you need to make an informed decision, whilst making sure the candidate feels at ease and able to give the best impression of themselves.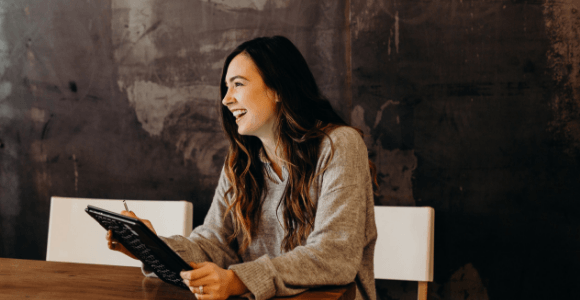 Prepare
Look over the job description again and review all of the candidate's submitted application materials, including CV, covering letters, portfolio if relevant, and any other correspondence. You also may want to review their online presence, such as their LinkedIn profile, personal website or twitter. This will help you find any areas that need clarification, such as gaps in their work history, or any online activity you want to address that may reveal more about the candidate's personality or interests outside of work that may impact their job performance.
Establish exactly what you want from your new employee before you start the interview and tailor your questions to find this information. Take notes and have a checklist of points you want to cover. This gives you specific desirable areas in which to compare the candidates for the next stage.
Start with small-talk….
Your small-talk can be just as important as the questions. Talking about the weather could be as important as grilling the candidate on their work experience.
Business Insider agrees that small-talk can be just as telling as questions specifically about the job, or even more so. A study on "rapport building" by the British Psychological Society Research Digest showed that small-talk hugely increased the scores candidates were given by their interviewer, compared to the same interviews conducted with no small-talk.
This part of the interview can be used by employers to assess communication skills, enthusiasm, likability and personality fit. In the end, you want to select someone that you'd be happy spending forty-plus hours a week in an office or workspace with.
The interview structure
Next, outline the interview structure so the person you're interviewing knows what to expect. Give a description of the company and outline what the job parameters are, then begin the interview - this is where you need to stop talking and focus on allowing the candidate to have their say.
Ask great questions
Standardise your questions, but also be flexible. For example, a candidate might cover a later question in their answer, or you might want to probe them further on a particular topic.
As long as you finish the interviews with information which allows you to score and compare each candidate on your chosen criteria, then you can make an informed decision.
Use a mixture of situational and behavioural questions so you can get an idea of how the candidate would behave in different situations as well as demonstrate their ability to think under pressure.
Wrapping up the interview
A simple and common way to wrap-up an interview is to ask the candidate if they have any questions. If they've prepared for the interview, they will have some ready to ask you. Then, let them know the next steps in the process, thank them for their time, and show them out of the room.