The reality is, if you're going out into the job market, it's likely that you will have to be on the receiving end of a telephone or video interview.
Recruiters and employers use phone and video interviews to narrow down large volumes of applicants and ensure that you're a credible and serious applicant before you're invited for a face-to-face interview.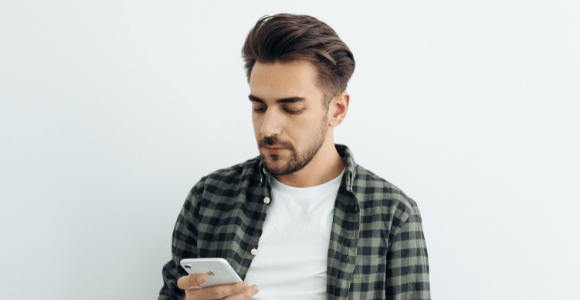 You may also have to take part in a video pre-screening - this is where a company prepares some questions and asks candidates to upload a video recording of themselves answering those questions. A pre-recorded interview puts you at an advantage because you know what the questions are beforehand and so can prepare your best answers. You also have the advantage of being able to record as many videos as you like. If you make a mistake, you can go-over your answers until you're happy and send over a polished final recording. Finally, make sure you follow the instructions provided by the company.
Take advantage of the interview style
The best thing about phone interviews is that you can have your notes in front of you. Make sure you do your research on the company, read the job description fully and have your CV to hand. It also means you can take notes, so you can remember important points and go back to them later in the interview. Video interviews still give you the advantage of being able to have your notes in front of you if you get stuck. If you're smart about it you can make it look natural, by placing notes directly behind the lens of your webcam on a piece of paper or having them typed up on your screen. Just make sure you never look as though you're reading the answers.
Don't have technology issues
Ensure that your phone or laptop has enough charge and you're somewhere with a good signal, or with good Wi-Fi if you're conducting the interview over Skype. Find somewhere private and quiet so you can concentrate – a coffee shop isn't ideal. Neither is being interrupted by your cat walking over your keyboard, the television in the background or your housemate/kids/pets making a noise. If you're going to be on video, ensure you get the basics of your video production right. You'll need a good internet connection, good lighting and no background noise or distractions. Failing to do these basic things can easily make you look unprofessional and decrease your chances of making a good first impression.
Be professional
It can be tempting to be a little more informal over the phone, especially if you're lounging around on the sofa in your pyjamas. Sit up straight, introduce yourself when you answer the phone, don't eat, and remember to conduct yourself as if you were in a face-to-face interview. Some people like to wear interview clothes to get themselves in the right frame of mind. For a video interview you should dress as you would for a normal interview – choose an appropriate level of smartness for the job you are applying for.
Prepare
Prepare like you would for a normal interview. Prepare answers to common interview questions and have some examples prepared of scenarios where you have particularly excelled at work or overcome obstacles. Research the company and find some relevant questions to ask the interviewer.
And you still need to be punctual, so be ready in front of your computer or with your phone 15 minutes before the interview start-time with all of your tech set up.