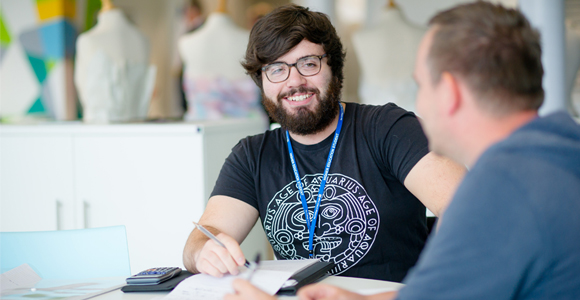 The modern world is ever evolving, which means that we have to as well. CWA offers a number of ways in which you can learn keys skills - to either change your career completely or refresh your current skillset. We know that returning to education after a break, no matter how long, can be a daunting prospect, but it doesn't have to be. We want to provide you with the knowledge and tools to help you return to learning and better your future prospects.
Higher Education Courses
University Centre West Anglia (UcWA) is a higher education partnership between College of West Anglia (CWA) and Anglia Ruskin University (ARU). We offer a number of higher education qualifications, right on your doorstep: foundation degrees, degrees, HNCs and HNDs. These can be studied either full or part-time, so with the with the convenience of studying locally and fitting studies around your family or current job, it's never been easier to plan your future. Browse our
degrees
and
foundation degrees
.
Read Jack's story
.
Access and Pre-Access Courses
If you left school without the qualifications you need to apply for a higher education course, we offer the opportunity to study for either an Access to Higher Education Diploma or Pre-Access to Higher Education Diploma. Access courses are the equivalent of a level 3 vocational course or three A-Levels. Most UK universities will accept this qualification as entry to study for a degree. Most of our access courses are offered part-time, meaning you can fit your studies around work and family. Pre-Access courses are the equivalent of a level 2 vocational course or five GCSEs; they are designed to prepare you for studying an access course. Browse our
access and pre-access courses
.
Read Andrew's story
.
Evening & Leisure Courses
Of course, education doesn't just have to be about climbing the career ladder; perhaps you just want to learn a new skill in a subject that you have a passion for. We offer a number of adult courses, from ceramics to Microsoft. Doing a course out of love or interest is a great way to ease yourself back in learning, by engaging with like-minded learners in a very social setting. Browse our
evening and leisure courses
.
Read Chloe's story
.
Commercial Training
If you are currently in employment and wish to develop your skills, or are an employer looking to give your staff some further training, our commercial courses provide the perfect opportunity to strengthen workforces. We have been providing training solutions for over 25 years through our team of dedicated industry professionals. Browse our
commercial training courses
. View our list of
training partners
.