Twenty Foundation students from the College of West Anglia (CWA) have created and curated an exhibition for Lynn-based museum Stories of Lynn, sharing what has been important to them during lockdown.
The students used washed out jam jars to display three of their most poignant memories and experiences during lockdown. The project has been named Museum in a Jar, hoping to record people's memories and feelings at a historic and current moment in history.
The project is part of the Norfolk County Council (NCC) initiative Kick the Dust (KTD), which is funded by the National Lottery Heritage Fund' and provides opportunities for young people of all types to get involved in their local heritage to create meaningful change in museums through projects, groups and work experience. The project began as a result of a talk arranged during National Careers Week around different job roles in a museum.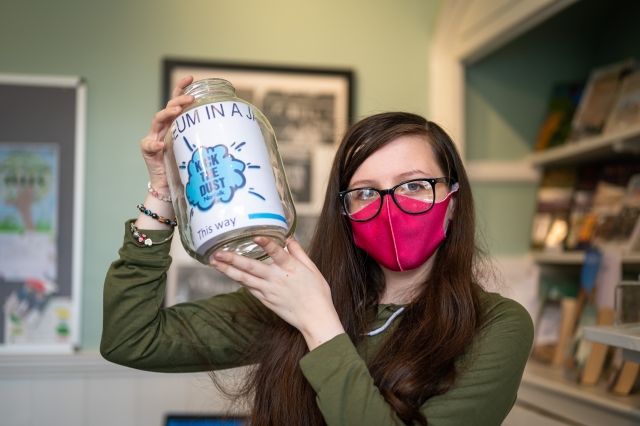 CWA student Katrina Kirk
Rachel Duffield, Kick the Dust Project Worker, said:
"It has been fantastic working with college students throughout the project. Now lockdown has lifted, our exhibition has moved from imagination to reality, which has been particularly exciting for all involved!"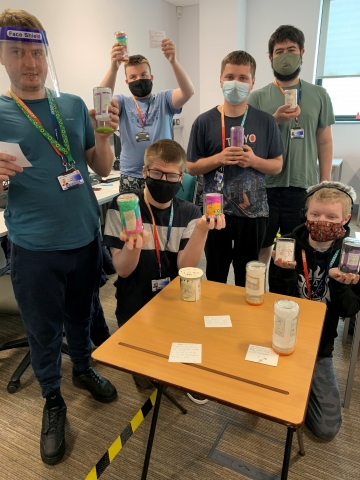 L - R in the photo - Luke Hayes, Stephen Thompson (standing), Jake Hart (kneeling), Kyron Tibbles, Glen Ketteringham, Brandon Pearson (Kneeling)
Kerian Cundy (17), Moving onto independence student said:
"It was really good. I spent a lot of time getting my drawing just right."
Jack Sharpin (17), Moving onto independence student said:
"It was fun doing the drawings. It brought back a mixture of good and bad memories."
Amy Grassick (17), Moving onto independence student said:
"In lockdown I practised different nail varnish techniques and doing the project reminded me of this."
Glen Ketteringham (20), Bridge to Education student said:
"It was a really enjoyable project."
Jake Hart (21), Bridge to Education student said:
"Lots of good memories and I enjoyed doing it."
Stories of Lynn have also taken on some students as part of their work experience placements to curate the Museum in a Jar exhibition ready for the public to view in the café area. Students who curated the exhibition are Katrina Kirk and Aether Bankauskarte.
Rachael Williams, Norfolk Museums Service's Learning and Engagement Officer for Stories of Lynn, oversaw the first cohort of CWA work experience students. She said:
"When we began KTD, we had a number of CWA students who helped us with the making of a film about Southgates and to help promote the Council's recycling programme. We are delighted to be working with college students once again on this fantastic project."
You can view the exhibition in the café area at the Stories of Lynn museum, located at the Saturday Market Place.