Creative Arts students from the College of West Anglia (CWA) are closing their term with a virtual exhibition, titled 'CWA Art and Design Expo 2021: A Beautiful Escape' to display curated work for their Final Major Projects.
Over 140 CWA students from photography, art and design, graphic design and prospective fashion students have displayed their work for members of the public to view online.
The exhibition lead image was based on 2nd year graphics student, Luis Confesor's design. He said:
"For my communication concept for promoting the end of year art show at college I chose the theme of 'A Beautiful Escape' from many ideas that I had. The message I wanted to communicate with my design was what it is like to be a creative person and also about how college courses give you the opportunity to escape to new futures and possibilities. With things going on in the world right now, I think escaping is something that appeals to many young people and for me creating art is a way of doing this."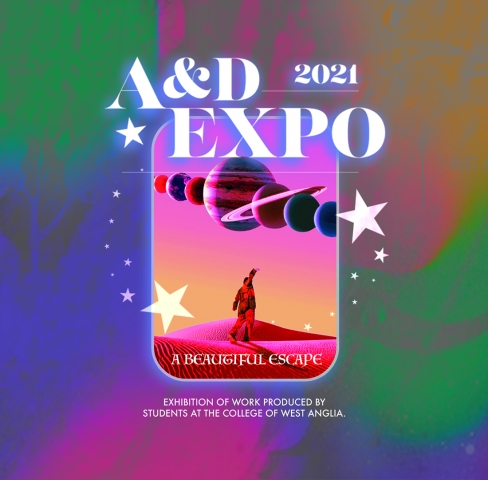 Sydney Wilding, Level 3 Extended Diploma in Creative Practice student, said:
"The name of my project was 'Expression' and I wanted to convey my three topics: colour, emotion and distortion in my work. My project was primarily photography based but I used other mediums to experiment around with my images."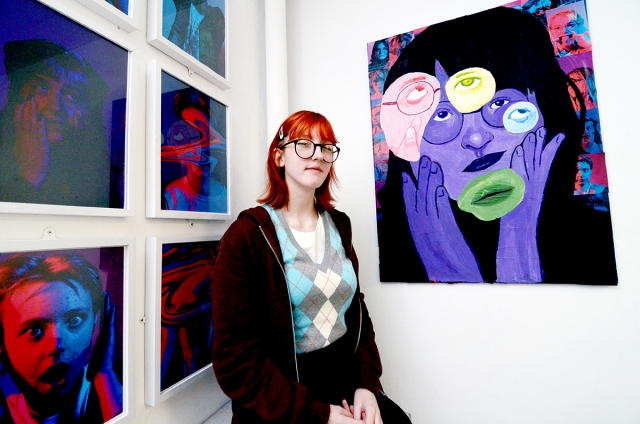 Sydney Wilding
Sandra Castro, Level 3 Extended Diploma in Creative Practice student, said:
"I decided to base my project on the idea of distortion of the human face, I then developed this idea by producing some paintings, screen prints and also some ceramic pieces."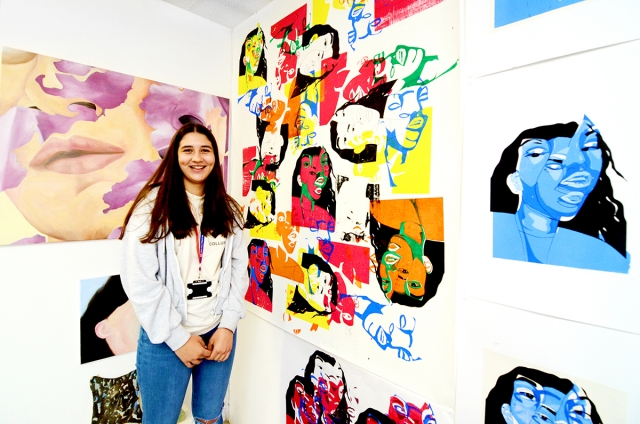 Sandra Castro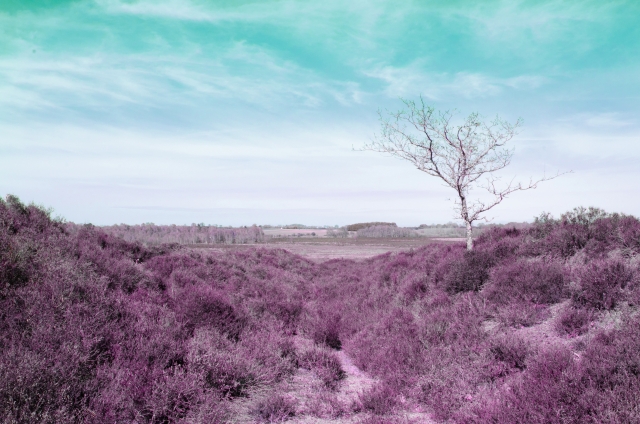 Jenn Domenech Civera, Level 3 Extended Diploma in Photography student
Paul Gibson, CWA Programme Manager for Creative Arts:
"Despite being a challenging year for learners, it has not impacted upon their ability to produce an excellent collection of work. The range and the quality of work produced shows a diversity of ideas and innovative approaches to being creative when resources may be limited. I am really proud of what they have achieved."
Prospective fashion students from secondary schools in the local area entered a competition held by the faculty to design a dress for a post-lockdown garden party with inspiration taken from nature. Litcham were awarded the Fashion Challenge Shield by CWA for submitting the best series of designs.
The winning entry was designed by Skye Harowing from Litcham School made by Fashion Design lecturer, Michelle James and displayed within the exhibition as part of her prize, as well as presenting her with a kit of essential equipment and materials for fashion. Skye's design is being exhibited as part of the College of West Anglia's online Art and Design Exhibition.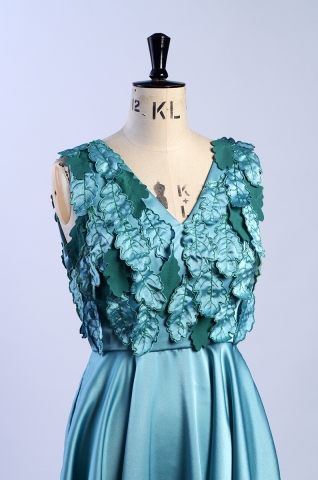 Skye Harowing's winning design, which was created by CWA fashion lecturer, Michelle James
CWA has recently launched a brand-new Fashion Design course due to start in September 2022, which many of the Litcham students hope to begin once they finish Year 11.
If you would like to view the full exhibition, please visit: collegeofwestanglia.wixsite.com/exhibition
If you would like further information on our courses, please visit cwa.ac.uk