Over 500 College of West Anglia (CWA) students, staff, employer representatives and the Borough Council of King's Lynn and West Norfolk Mayor, Harry Humphrey attended the Operation Inspire careers event at Alive Lynnsport last week.
Wing Commander Cooper from RAF Marham officially marked the opening of the event alongside Ruth Harrison, CWA Vice Principal of Curriculum and Learning, with both delivering speeches to CWA students and employer representatives.
Wing Commander Cooper from RAF Marham, said:
"Operation Inspire has offered an excellent opportunity for students to take advantage of those organisations represented, including a wide range of career opportunities from universities, Blue Light and Military Services, and a variety of sports and leisure organisations. It has been my pleasure to open the event and hopefully inspire the next generation of students to enter in to careers within defence or sport related industries."
Ruth Harrison, CWA Vice Principal of Curriculum and Learning, said:
"Operation Inspire provided a fantastic opportunity to inspire our learners to pursue a wide variety of different career progression routes offered within the public protective services and sport sectors, as well as various related industries. We would like to thank our employer partners for their engagement with our learners, and the multifarious insights and perspectives they have shown them in helping them to make a more informed choice about their future career paths."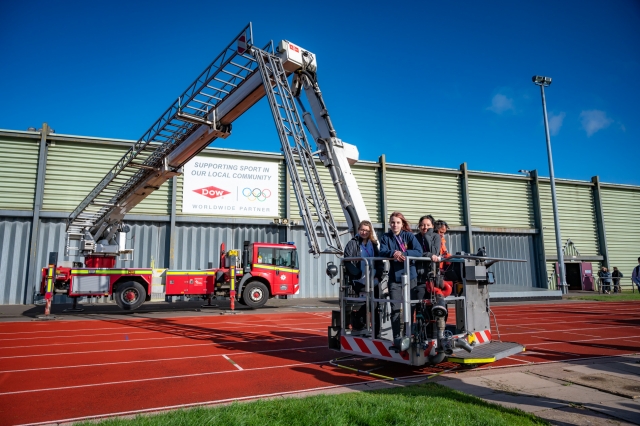 CWA students with Norfolk Fire and Rescue Service
The careers event was organised by CWA Work Placement and Careers Co-ordinators Tracey Hall and Becky Davis, and saw many representatives from the public services, armed forces and sporting world to encourage the younger generation to enter into related-industries and talk to students about employability options within the industry and job roles.
Tracey Hall said:
"Operation Inspire was a great success. We had some great feedback from learners afterwards and you certainly 'inspired'. We look forward to more collaboration with our Public Services team going forward."
Employer representatives included; Alive Lynnsport, Army cadets, RAF Marham, RAF Honington. RAF Outreach team, Army Reservesthe Royal Navy, HM Prison Service, Norfolk Constabulary, West Norfolk Fire and Rescue, Royal National Lifeboat Institution, Norfolk Coastguard, British Divers Marine Life Rescue, KICKS Charity, Searles, Queen Elizabeth Hospital, King's Lynn Community Football, Premier Education, University of East Anglia, Anglia Ruskin University, University of Lincoln, Nottingham Trent and the CWA Apprenticeship team.
One student said:
"It was a real eye opener as to what is available out there, I have seen every employer and I am impressed with what they have to offer."
If you're interested in studying on a sports or public protective services or sports course at CWA next year, please join us at our next open day on Saturday 13th November 2021. To book your place, please visit: cwa.ac.uk/about/open-days