During a tour of the College of West Anglia's King's Lynn campus James visited the site for the new School of Nursing Studies, met World Skills competition contestants, and tried his hand at sheet metal work.
The College of West Anglia is one of the largest providers of education and training in Norfolk and Cambridgeshire and the King's Lynn campus offers a range of vocational programmes, A-levels, and apprenticeships in modern facilities with teaching by staff with industry experience. It is also home to the University Centre West Anglia (UcWA), a dedicated higher education facility. It aims to equip students with the skills to succeed in further and higher education and employment.
During the visit hosted by Principal David Pomfret, James saw the progress being made on the new School of Nursing Studies which is due to open early next year to deliver level 5 (foundation degree equivalent) Associate Nursing apprenticeships. Last September, as part of King's Lynn's Town Deal, the College of West Anglia secured £597,000 from the Ministry of Housing, Communities, and Local Government to provide high quality nursing training facilities on the college campus. The new School has been developed by the College of West Anglia and QEH with support of the borough council and other local partners and will help address nursing workforce issues and allow QEH to recruit locally.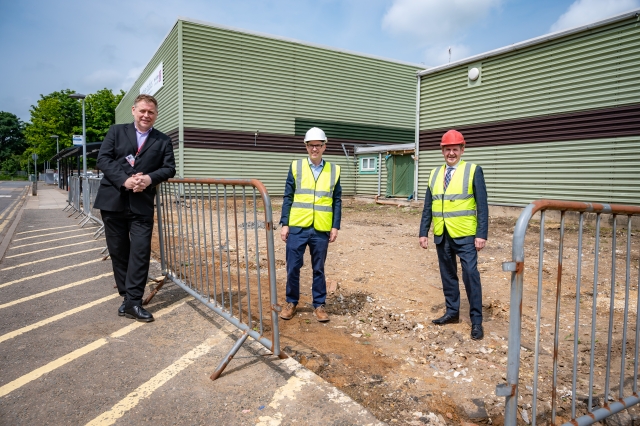 Senior Nurse Educator, Adrian Debney with Conservative MP James Wild and CWA Principal David Pomfret
With a strong focus on vocational courses at the college, James had the chance to meet some electrical apprentices in the Technology Centre and also tried his hand at sheet metal work with welding students who demonstrated the industry skills they have developed. In the Creative Media Suite, which has industry-standard facilities for art & design, performing arts, media and music, James met some of the students who will be participating in the World Skills semi-finals on Tuesday and gave an interview as part of their preparation.
Commenting after the visit James Wild MP said:
"The College of West Anglia does an impressive job in delivering quality education and helping people to develop practical skills that employers need. It was encouraging to see the site where the new School of Nursing Studies will be and I look forward to it opening for students next year to offer high quality nursing training to support QEH. This investment is part of the government's commitment to levelling up and spreading opportunity in Norfolk West Norfolk and will further enhance the CWA's excellent facilities and courses."
David Pomfret, Principal & Chief Executive CWA said:
"I'm delighted to welcome James Wild MP to College of West Anglia today to thank him for his ongoing support for the new School of Nursing Studies, to update him on the many college developments and to update him on the need for further government investment in an education and skills led recovery".