CWA 1,000 Challenge: Miles for MIND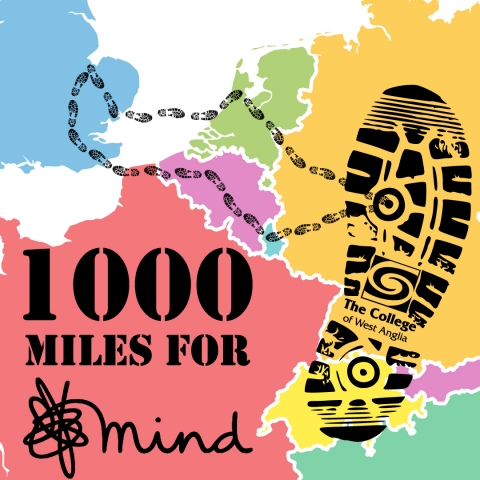 The Challenge
Planning on overindulged this Christmas? Want to get active in the New Year? The Employee Well-Being Committee are challenging you to complete 1,000 miles throughout the month of January to raise money for the local mental health charity, West Norfolk MIND. While we can't get away this year, the route takes you through England, France, Belgium, Luxembourg, Germany, the Netherlands before returning to England in just thirty-one days.
It doesn't matter how you get there just get there if you can!
We're challenging staff and students - if they would like to participate - to stay active and promote mental and physical well-being to beat the January blues. You can complete whatever distance you'd like to in whatever way you'd like to complete it, whether that be by running, walking, cycling, swimming or skipping!
How to get involved:
Simply visit cwa.ac.uk/CWA1000 and input the number of miles you and/or your students have completed on a daily or weekly basis. You'll be able to upload a screenshot of your route and a photo of yourself completing your miles at the same time.
Download the Strava app for free and join the College's club and log your miles. You can join the club by following this link: strava.com/clubs/CWA_College or by searching for the College of West Anglia on the clubs' section of the app. When students and staff complete an activity on the app their distance will contribute to the overall college total.
Share a picture on social media and tag us, using the hashtag #CWA1000
A selection of prizes will be awarded to those who place at the top of the leaderboard.
Donate:
We are putting mental health at the forefront of this challenge by aiming to raise £1,000 for local mental health charity, West Norfolk MIND, as part of the challenge. To help us to reach our target and raise money for this fantastic cause, please visit:
https://www.justgiving.com/crowdfunding/cwa1000
Route:
The route takes us through six countries in Western Europe, spanning just over 1,000 miles before returning home to England again.