Over 800 College of West Anglia (CWA) students attended a series of virtual careers events, hosted by key local and national employers, organisations and individuals to celebrate the wide range of careers available to students during National Careers Week 2021 (NCW).
Aviation Day
Travel and tourism and business students attended a full day of careers' activities to explore a variety of roles within the aviation industry. Students listened to talks from members of the Gibson family, all of whom who have had or have careers within aviation. Talks covered roles as cabin crew, within customer services and piloting the aircraft.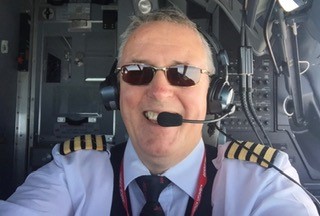 Captain Tom Gibson
The Gibson family said:
"With three of us in aviation; Tim an airline Captain, Sue and India both ex Senior cabin crew, we realised that between us we have 65 years' worth of experience covering all aspects of the aviation industry ranging from The Royal Air Force, long-haul, short-haul, charter, scheduled and business and low-cost operations. To share our unique 'aviation world' today with students from The College of West Anglia at their online Careers Event was an absolute pleasure. We wish each and every attendee the very best in their aviation career.....blue skies are most definitely on the horizon!"
CWA student, Jess Fowl, said: "I thought it was very interesting and useful! Really gave a good insight of what it is really like being a member of cabin crew and working in the aviation industry as a whole."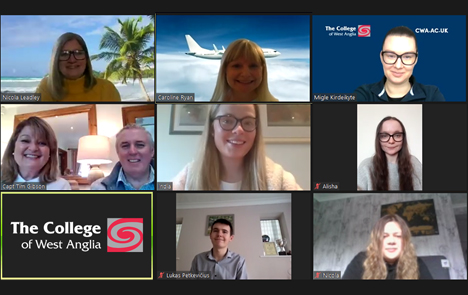 CWA students and staff pictured with the Gibson family
Public Protective Services
Cllr Stuart Dark MBE came to speak to students about careers within the police force. Stuart is a retired Detective Superintendent with the Metropolitan Police Service and is a recipient of its rarely awarded highest operational honour. Stuart is a County and Borough councillor and is currently the Cabinet member leading King's Lynn and West Norfolk Borough Council's response to Covid-19. Councillor Keith Kiddie, Chairman of Norfolk County Council, Lieutenant Colonel (retired) joined Cllr Stuart Dark MBE to talk to students about his experiences in the British Army.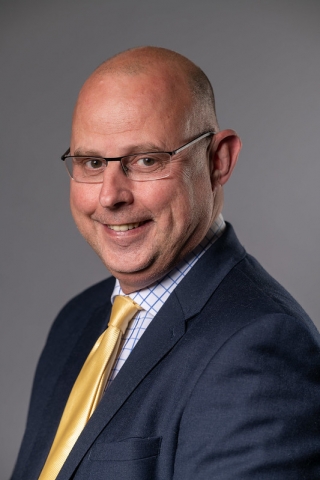 Cllr Stuart Dark MBE
He said:
"We were really pleased to be able to assist the college as we know how challenging a year it has been for students. To be able to interact with such enthusiastic young people intent on careers in public service, impart some knowledge and candidly answer their questions was great to do, particularly as a number had already voluntarily given their time to assist in the local Covid-19 response."
Masterchef Semi-Finalist
Masterchef semi-finalist, Anthony O'Shaughnessy, spoke to CWA catering and hospitality students about the many different career paths a chef can take, from working in a restaurant to private dining, teaching, becoming a food critic and television presenting. He also gave an insight into his experience as a contestant on Master Chef, as well as talking about the courses he now provides at the Ministry of Food - an organisation headed up by Jamie Oliver in Leeds.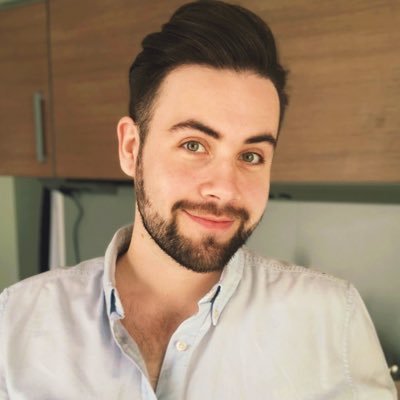 Anthony O'Shaughnessy
Maritime Day
CWA students attended a day of events to highlight different maritime-related careers. Students listened to five talks from key leaders in the maritime sector, including representatives from Maritime UK and ABPorts.
The keynote speaker of the day was David Heley. David was formerly a Senior Maritime Advisor for the Royal Navy, as well as a former student at CWA.
David Pomfret, CWA Principal, said:
"We have had a fantastic week of virtual lectures delivered to our students on a diverse and practical range of different careers and related industries to celebrate NCW. We would like to give special thanks to all of the national, regional and local businesses, organisations and individuals who have given up their time to inspire our students about future career opportunities and teach them invaluable employability skills."