Eleven College of West Anglia (CWA) apprentices and two employer partners have been recognised in various different apprenticeship award categories by Apprenticeships Norfolk (AN).
CWA apprentice Stewart Nimmo has been awarded the COVID-19 Response Special Recognition Award for work he has completed at his workplace and the wider community throughout the pandemic. Stewart is undertaking a Level 5 Management Apprenticeship at CWA, while working at the Queen Elizabeth Hospital (QEH) as a Catering Manager. He has been working at the QEH for thirty years.
Stewart has been ensuring all staff receive the food and drink they need, including creating additional meal bags for frontline staff who struggle to get to the shops outside of their shifts, providing the COVID-19 wards with refreshments and working with the local community to manage food donations.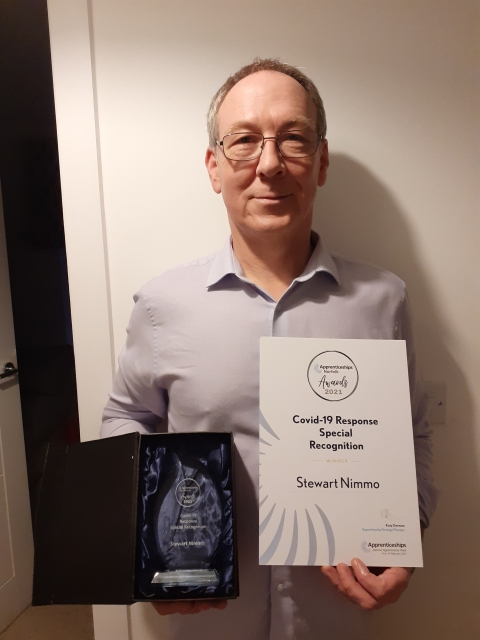 Stewart Nimmo
Stewart said:
"It was a surprise and a shock to have won. I felt like I didn't do anything different to what anyone else would have done in the same situation by trying to take the pressure off our frontline staff so they can focus on giving the best patient care possible.
"In March, everything changed overnight. It was a tough time for us all, but we got through it together and we continue to push through it together. I'm a small cog in a big wheel, the Catering Department has such a great team spirit and each and every one of them worked together to ensure we could support the staff in the best way we could.
"I'd like to take this opportunity to thank our partners and everyone in the local community for their donations and working with us throughout this difficult time. It's greatly appreciated by all at Team QEH."

CWA employer partner, AMR Group Ltd (AMR), won the SME Employer of the Year category. AMR have been working with CWA for 15 years. The company were nominated by Darren Hartle, CWA Apprenticeship Advisor for their work supporting CWA Level 3 Electrotechnical apprentices and their ongoing support to keep the QEH running, especially so during the pandemic.
Gary Peek, Electrical Contracts Manager, said:
"We have a strong working relationship with CWA, working together to train apprentices and secure jobs for the future generation."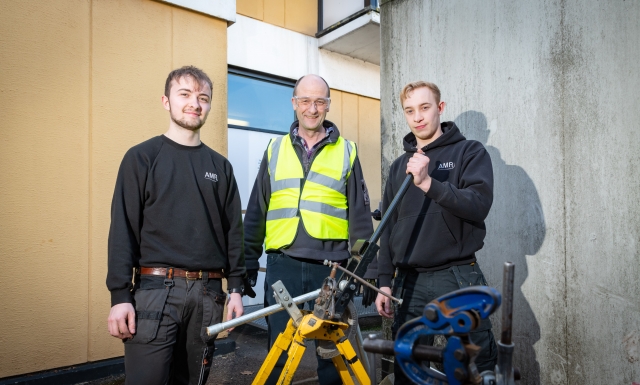 Paul Harrison (centre), CWA Vice Principal of Corporate Services joined CWA & AMR apprentices, Joseph Airey and William Pegg at the QEH back in 2018.
David Pomfret, CWA Principal, said:
"We are delighted with the recognition of our talented apprentices and employer partners by Apprenticeships Norfolk. The awards recognise the strong ties between CWA, employer partners and apprentices and our collective impact in strengthening the economy and building the workforce of the future."
Simon Kenny, AN Apprenticeships Project Officer, said:
"The Apprenticeships Norfolk Awards gives us an opportunity to shout about all the great things that have been achieved over this past 12 months. We know that the last year has been a difficult one for everyone but the talent, dedication and perseverance of apprentices and their employers has shone through. Our winners and those highly commended are an inspiration to us all and we are delighted to be able to celebrate their success."
Brandon Andrews, CWA Level 3 Plumbing and Domestic Heating Technician apprentice, was highly commended in the Level 2/3 Apprentice of the Year Category. He said:
"I didn't expect to win the award, but I'm delighted to have been recognised, both my employer and CWA have been extremely supportive."
Brandon works for Dempsey Heating Ltd, Fakenham while studying for his apprenticeship standard.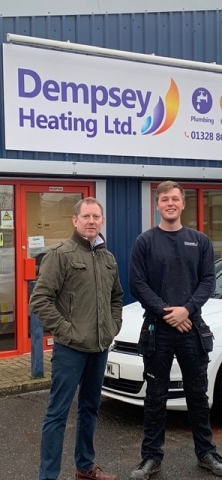 Karl Barnard, Company Director of Dempsey Heating Ltd pictured with CWA apprentice Brandon Andrews
Madeline Austen, CWA Apprenticeship Advisor, nominated Brandon for the award. She said:
"Brandon stands out as a worthy winner due to his professionalism whilst at work and at college. His enthusiasm and motivation to complete practical plumbing tasks and course work to a high standard is fabulous, as well as his willingness to help others. He is certainly a team player who has always wanted to be a plumber and will be a fantastic one at that!"
CWA electrical apprentice, Hannah Phillips, was highly commended in Level 2/3 Apprentice of the Year Category.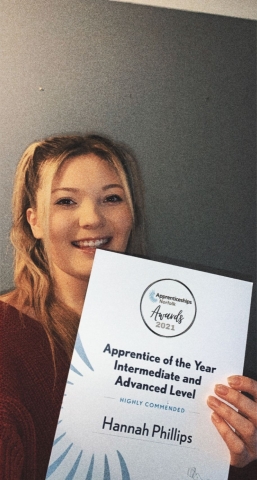 Hannah Phillips
Please see below for a full list of award winners and commendations.
SME Employer of the Year Category:
AMR Electrical Services Ltd (Winner)
Covid-19 Response – Special Recognition Category:
Stewart Nimmo (Winner)
Lyam Thorpe (Highly Commended)
Level 2/3 Apprentice of the Year Category:
Annie Rose Daultrey (Highly Commended)
Brandon Andrews (Highly Commended)
Robert Smith (Highly Commended)
Jack Quantrell (Highly Commended)
Ineta Mikuckyte (Highly Commended)
Hannah Phillips (Highly Commended)
Elliott Meek (Highly Commended)
Higher/Degree Apprentice of the Year Category:
Gemma Fawcett (Highly Commended)
Sarah Hibbert (Highly Commended)
Large Employer of the Year Category:
Flagship Group (Highly Commended)